Introducing Hakuna's new short-form video 'Hits'

What is #Hits?
It's a new feature that allows users to upload and
browse short-form videos in Hakuna.
*This is a sample video, and the actual screen may differ.
#Attractive Hits
✅Hosts can appeal/promote themselves with various Hits videos
✅Users can discover new favorite hosts more easily via Hits videos
Until now, hosts and fans have communicated through text, images, GIFs, etc,
when hosts are not on live broadcasts.
Now, Hits allows users to freely upload and explore attractive short-form videos anytime.
1️⃣ Enjoy Hits on Home
Enjoy Hits on a larger screen by clicking the Hits button on Home
If you liked the Hits, follow the host, and leave comments and likes.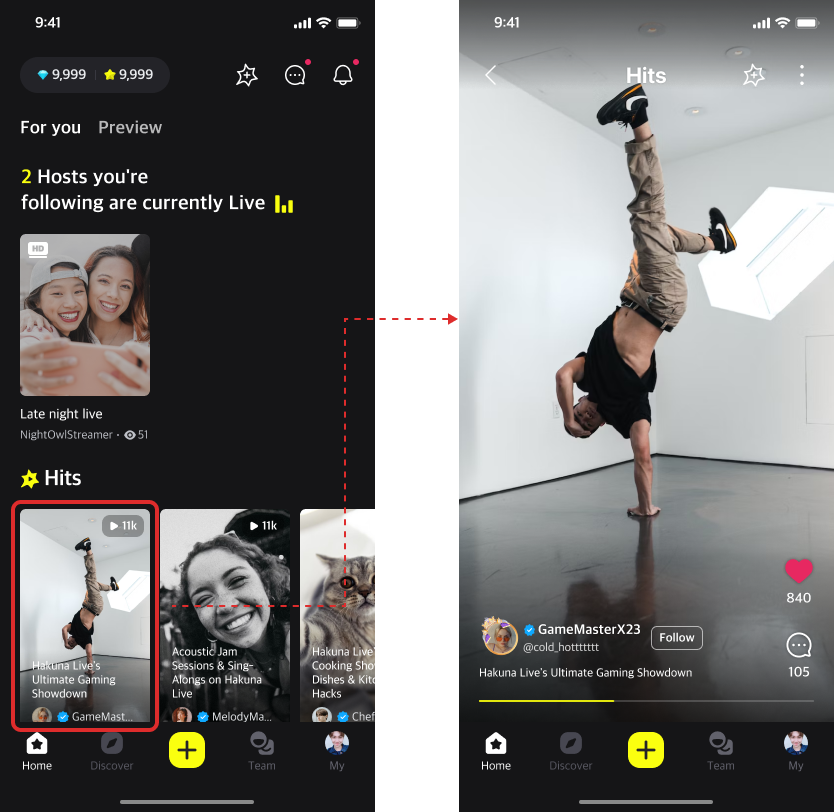 2️⃣Enjoy Hits on Host Board
You can watch more hosts' Hits on their profile Hits tab.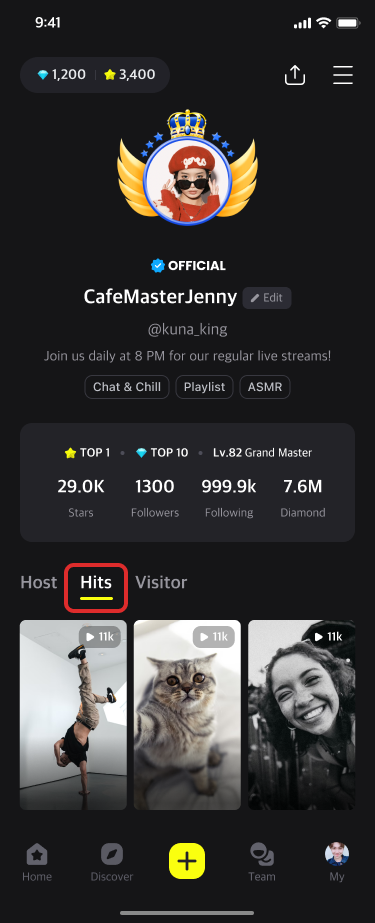 #Diverse Hits
There are two types of videos that can be uploaded as Hits!
You can upload videos from your smartphone album and recorded clips from the live broadcasts.
1️⃣ Upload videos in the album to Hits
Memes, challenges, broadcast teasers, daily vlogs, etc.
Any short videos that show your charm!
You can upload Hits from any place you want
💡 Click 'Upload Hits' in the Hits tab, or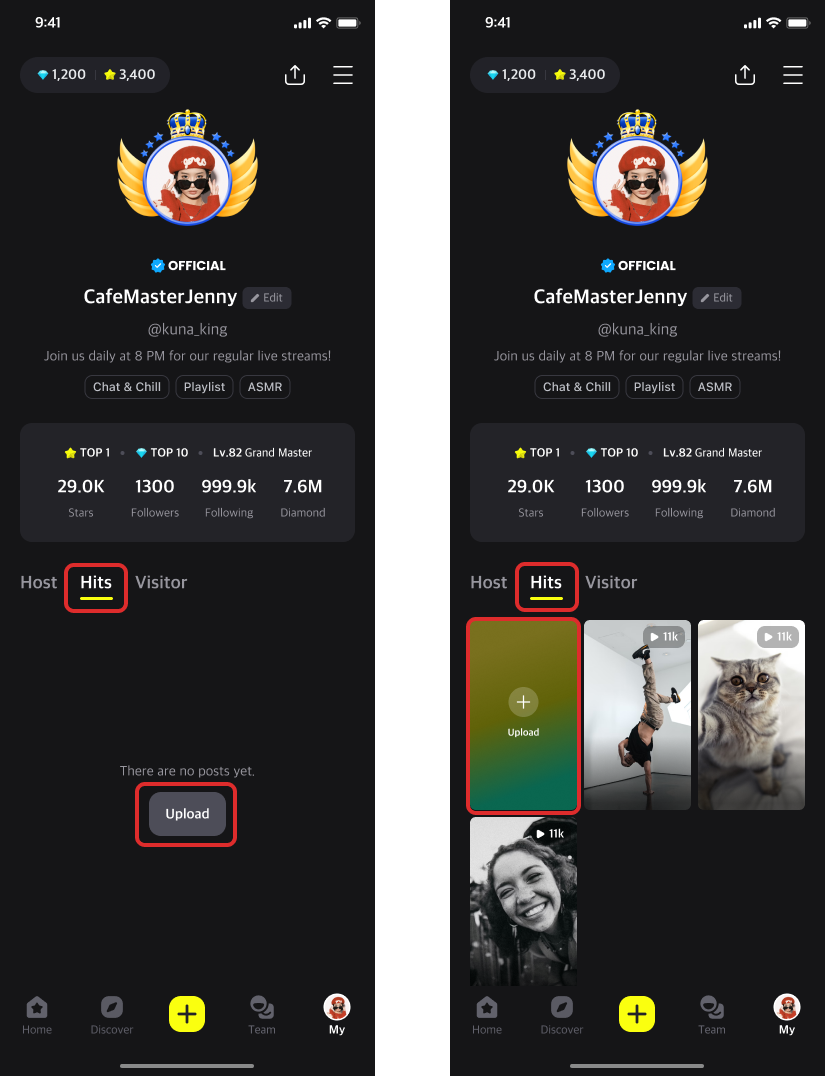 💡 Click the Hits icon or + icon on the Home screen, then select 'Upload Hits'!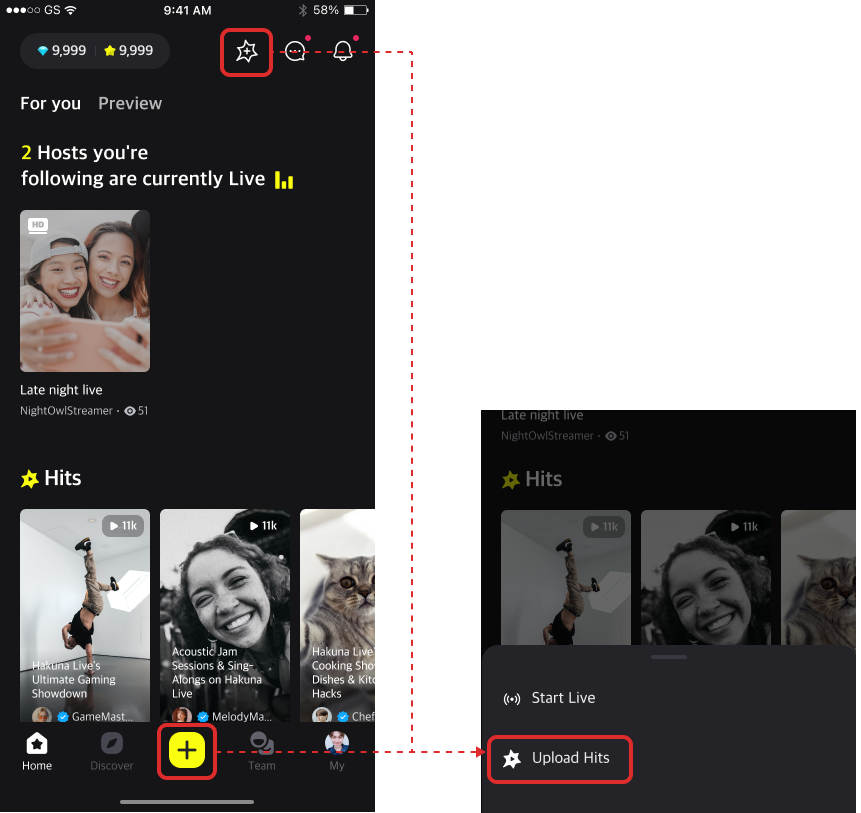 After following the previous step, select the video you wish to upload as Hits in the album,
and then add a description to the video.
You can choose a scene from the video as the cover on 'Edit Cover'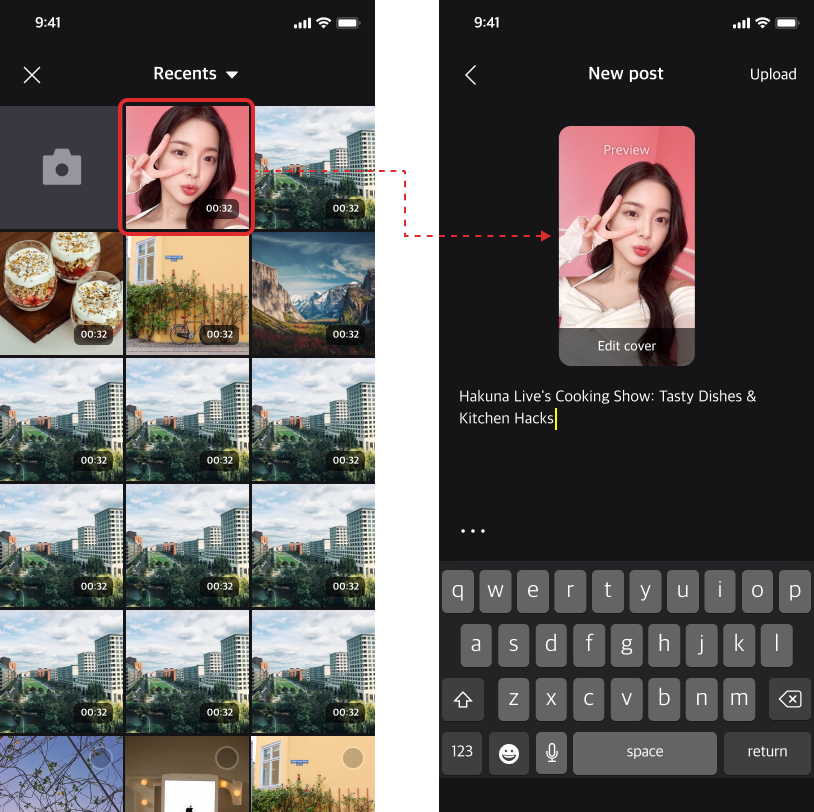 2️⃣ Upload the recorded Live Clips on Hits
Clip function allows you to record the part you wish to share with others during the live broadcast and upload it immediately.
① Record with 'Clip' during live broadcast
② Select the scene you want as a cover and click 'Save'
③ Add the description and click 'Upload'. It's done!

-------
Plus, If you are unable to see Hits, please update the app to the newest version (2.3.1).
In the event that Hits remains invisible after updating the app, we kindly request you to log in again.
Enjoy Hakuna more with new short-form video Hits!
Have fun with Hits!!