If you have an unpleasant experience or encounter an inappropriate user while using Hakuna, you can report it to us in the following ways.

1. Report while broadcasting

If you meet an inappropriate user while broadcasting, click the user's nickname and press the siren icon at the top left corner of the mini-profile. If you select one of the reasons from the report (block), the report will be submitted. When you submit a report, an image of the situation will be received at the time of reporting, so please don't hesitate to report it to us so that we can take action.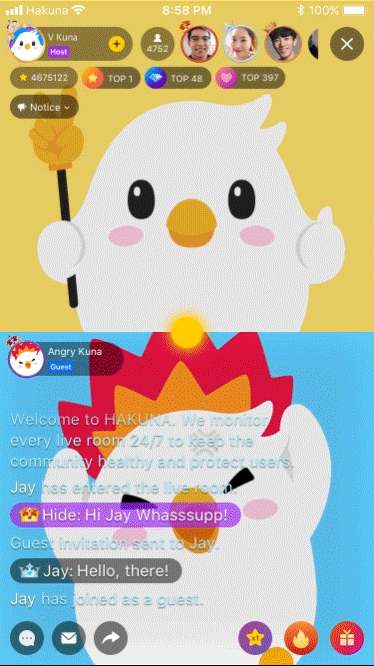 2. Report DM

If you receive an unpleasant message (DM), click the speech bubble and click 'Confirm' to submit the report.


3. Report fan board posts

If you want to report an unpleasant fan board post, please click the menu button at the top right of the post. If you select one of the reasons for block/report, the report will be received. After submitting the report, you can delete the post by clicking the menu button again.

If you want to report inappropriate users through CS, please send the following information through <Report inappropriate users>.

1. Detailed description of the situation
2. The date and time of the situation that occurred
3. If you attach the correct Hakuna ID (nickname is not applicable) or mini profile picture, we can check the information more accurately.
4. Attaching screenshots and videos could help us with proof regarding the inappropriate behavior. (It is difficult to check the issue for problems outside the Hakuna app)

It would be very useful for us to have more detailed information in order to punish inappropriate acts faster and accurately. So please make sure you send us every information in detail.

Reports received through these channels are strictly reviewed based on the community guidelines and are restricted to users who are deemed inappropriate.

These restrictions may include termination of live rooms, account deactivation, or device suspension.